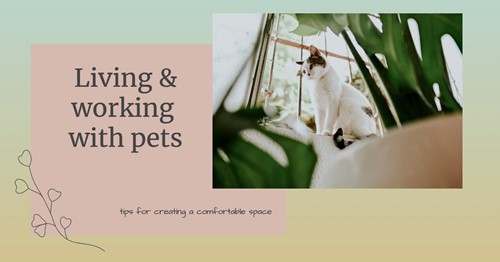 For many pet owners, giving your pets everything they need and want is among the top desires at home. However, pets can come with several items and nuances that may seem a little encroaching from time to time. Don't worry, they don't have to be.
Here is a quick guide to creating a perfect sanctuary for your pets at home without compromising your comfort space.
Give them a space
Pets love having areas they can call their own. These places are often considered safe spaces, or places they can go where they're guaranteed not to be bothered until they're ready. However, some items, such as large pet crates, may seem like too much to deal with regularly.
Make a pet nook for their crates, pet supplies, pet food and other items they enjoy by leveraging the top surface of their crates to make tables or other surface tops. Simply add an opaque, flat surface to the top and secure the corners. Be sure your pet isn't in the space while this is happening, as safety concerns may arise.
For those simply looking to increase their storage space with their pets, try a small cabinet or cubbies with removable cubes to keep their pet supplies in a manageable area without cluttering your normal living space.
Choose pet-friendly materials
One of the biggest complaints many pet owners have is the amount of cleanup they have to do with their furry companions around. Some may even deny their pets use of the furniture to help reduce the amount of hair that accumulates on it. However, there is an easier way.
While cleaning up after pets is a reality of pet ownership, you can make it a little easier on yourself by implementing fibers and materials that don't allow the pet hair to weave through them.
Try faux leather, high thread count cotton, microsuede or any other material that boasts high and tight thread counts. These materials leave such small space, if any, between weaves that most animal hair won't bind to them.
Create calm
Creating a calming environment with rich colors found in nature, soft sounds and excellent, but pet-safe, aromatics is a great way to create a sanctuary for both you and your pets. Just like humans, having a quiet and calm setting is a great way to reduce pet stress, which reduces their hyperactivity.
For those with cats, try keeping more cat-friendly houseplants that may also purify the air and add a beautiful splash of color to your home's living space. For those with dogs, try keeping cooling mats, cots or other types of temperature-controlled bedding available for them to relax in.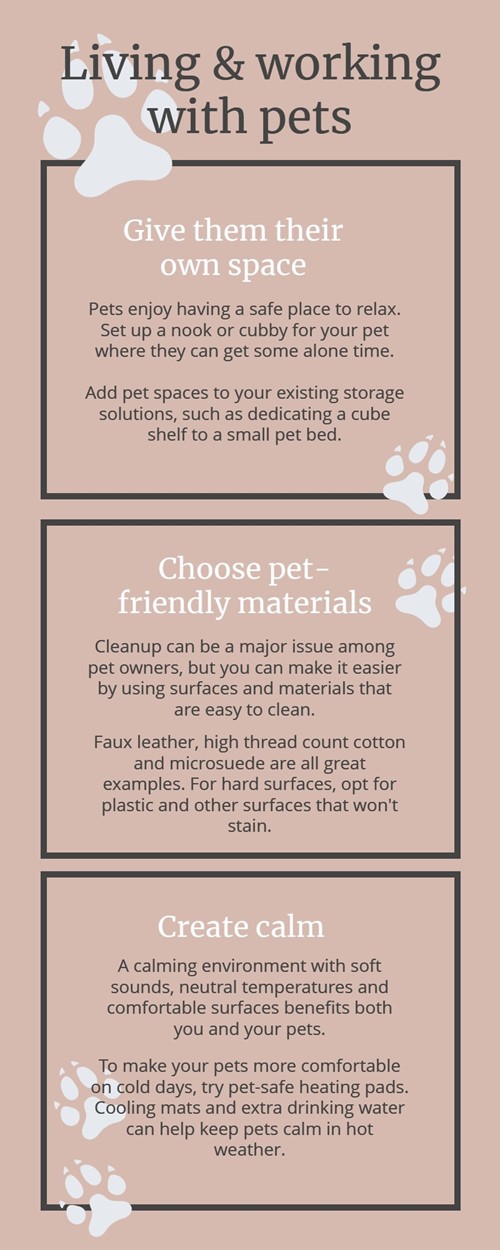 Having pets at home often means making compromises to your space. However, your pets can have a sanctuary that doesn't require you to make too many adjustments to your everyday environment. Try these simple tips first and discover how you and your furry friends can have exactly what you both want.